Before watching this video please read my statement regarding my performance here first: DISCLAIMER
Since they had a live recording straight from the engineers mixing board, you'll be able to hear what I was talking about in my statement. Technical difficulties aside, enjoy the video:
Tonight I am performing at the MAMA Awards in Madison, WI and am up for 2 awards: "Hip-Hop Song of the Year" ("What U Gonna Do") & "Hip-Hop Performer of the Year". The MAMA Awards is an organization that represents all types of genres of music in Madison!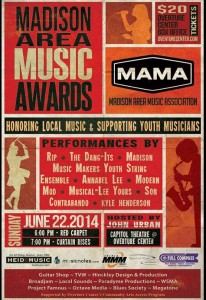 93.1 Jamz & Dane County Fair Present:
Rip Live in Concert at Dane County Fair – Wednesday July 17, 2013
Showtime: 7pm
Fair General Admission: $3 before 3pm, $8 after
Address: 1919 Alliant Energy Way, Madison, WI 53713
Some video of my show at Whiskey Jacks in Madison, WI last Thurs. For those who missed out and couldn't make it, here is some footage of me performing some songs off my new album "Sellout" (sorry the audio isn't the best, this was filmed with a secondary camera, not the principal one used to film my "Dreamgirl" Music Video"):