Last weekend I was part of the 48 Hour Film Project in Madison. My team was given a Western and 48 hours to completely write, film, edit and produce a 4-7 min short film for their worldwide competition. Our entry will be screened at the Sundance Cinema on May 1, 2014 between 9-11pm. Come check it out!!
Date: Thursday, May 1
Time: 7:00pm and 9:00pm
Place: Sundance Cinemas, 430 N Midvale Blvd, Madison, WI 53705
Tickets: $12 (cash only)
Notes: Join us on the red carpet as we celebrate the 8th Annual Madison 48 Hour Film Project. Premiering Thursday, May 1 will be 29 short films created the weekend of April 25-27 by local filmmakers. One film will be awarded "Madison's Best" on May 9 and will represent our talented city in the International 48HFP Competition.
Screening times are 7:00pm and 9:00pm. Each screening will showcase a different set of films. Tickets can be purchased at Sundance Cinemas starting at 5:00pm, day of show.
See you at the cinema!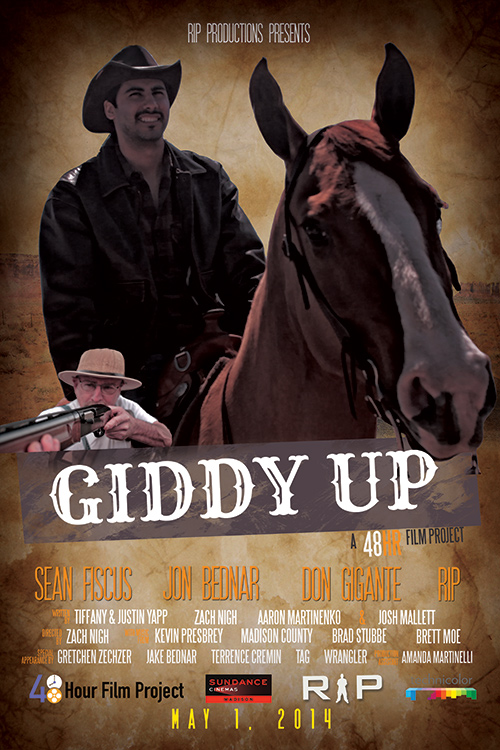 Many times I come across aspiring "directors" or "videographers", especially in the music business, and most of the time their music videos (or videos in general) simply lack that professional "cinematic, film" look. On this week's episode I share some tips on how I achieve that film look with a budget DSLR.
This week I went home for Easter and finally convinced my Mom to get a tattoo she's been wanting for 5 years on the spur of a moment!! Check out the video on this week's episode of Sellout Sunday!! Hope you had a great Easter with your family. #GodBless
We are currently dealing with a situation with our "What U Gonna Do" video on YouTube-VEVO page, which is currently under rebuttal and is being dealt with by our video distributor.  Until the red tape has been worked out you won't be able to watch the YouTube link.
You can still watch it on Vevo: