Happy Thanksgiving everyone. I just want to take this time to thank The Lord for all His blessings in my life the past few years. I have many MANY things to be thankful for. For one, I couldn't be more thankful for my health. I am grateful everyday that I wake up a healthy individual…this is something I DEFINITELY DON'T take for granted! I am thankful for having steady work the past few years, especially in a time when the economy is the way it is. I am thankful for having a roof over my head. I am thankful that I am able to continue to live and pursue my dreams and I CAN'T tell you enough how much I love and appreciate my support team…my family and friends and of course you all, my supporters. There have been soo many people who have been instrumental in the continued journey I am pursuing in life, and without everyone…I couldn't continue to do it! Not only have my friends and family been very supportive with my career, but there is also a handful of you who have been there for me the past year or so that has been there for me mentally and emotionally through some of my own personal struggles, and for that I couldn't thank you guys enough. I have some of the best friends at this point in my life, probably more than at any other point in my life. I really feel blessed to have the life that I do…to the point where not only do I thank the Lord for it…I sometimes question Him and ask Him why He has been blessing me so much. I am also Thankful for the trials & tribulations He has put me through the past few years…the learning experiences, the lost loves ("It is better to have loved and lost then to have never loved at all") and everything else in between. This Holiday season I am going to work on giving back myself. And last but not least, thank YOU! Thank YOU for following my page, supporting my music & my dreams. If you have EVER supported me, "Rip", as an artist…I love and appreciate you more than these words can convey. If you ever bought any of my merchandise or music, came out to any of my shows…showed love and support for any of my music and videos, shared one on FB or to your friends, helped in the production of my video in ANY way…no matter how big or small a contribution…I express my unworthy gratitude. Thanks again to anyone who has ever contributed to making me a better person and thank you Lord for all your continued blessings. I love you all very much from the bottom of my heart! Hope you all have a great & blessed Thanksgiving!
Sincerely,
Joshua aka "Rip"
Artist: Rip
Song: "Hate That I Love You"
Album: Sellout (Spring 2012)
[verse 1]
Got a story, dementia; been messin my head up
Aggression been pent up, wish I put my fence up
The day that I met a…headcase and then left a…
'Nother headcase I was involved with instead of..
Searchin' my soul for the right thing to do
Spent almost 2 years just fightin' for you
Tossin' and turnin' my brains 'bout to explode
Now who is the one with the chains on their soul?
Barely 6 months after the date of the break you partake
in a ceremony that's so fake!
We split in the spring then in no time at all
You walk down the aisle in denial that fall
I been livin' my life, without anyone catchin' me
Then I met you, and you ruthlessly step on me
Fallin' and fallin' got no safety net
While you fall back on yours you made the day we met,
Cuz I..
[Chorus]:
I-I-I-I. I-I-I-I, I-I-I-I Hate that I love you.
Don't Lie-i-i, i-i-i-i, i-i-i-i & fake who you love too.
I-I-I-I. I-I-I-I, I-I-I-I Hate that I love you.
Don't Lie-i-i, i-i-i-i, i-i-i-i & fake who you love too.
[verse 2]
Man she's out for a vengeance, pay real close attention
It's more than me puttin' my 2 little cents in..
You wonder why real music don't get respect?
Well this here's about to get as real as it gets!
I'm livin' my life without any regrets
But can you say the same without your heart in debt?
Can you honestly say that those are your real friends,
Lettin' you go through with it knowin' what's in your head?
If you're really ready to wed then you should be soarin'
so high and not textin' me at 2 in the mornin'
Or every few weeks cause I know what you're missin'
Up in the club with your girl where I'm spinnin!
How would he feel knowin' you text me love songs?
I can't even fathom what else you have done wrong
I'm really not a dick but my image depict one
Take a second to ask who really the victim
[Chorus]
[verse 3]:
You were with him before me, until he got boring
Your words exactly but who knows the story
I just know what I know, not up for debating
Only 2 possibilities in this situation:
One, you just used me I never met nothin'
You were only passin time 'til he came back runnin'
Two, I was the one for you and you really liked me
He was just your backup plan, you did it just to spite me
But I think that you and I really know which one it is
And you need to get up off all that really selfish biz
On top of that you friend a girl I left for you but just listen…
If she couldn't have me no one would, the game you let her win
But I'm not tryna reminisce, she venomous like a nemesis
Can't fix this with no medicine, straight killed it like some venison
Inattentive to the damage you caused with these issues
But I love you so much already forgive you
[Chorus]
Yeah, get em J (Hate that I love you)
Heh, you aint foolin' anybody (Hate that I love you)
It's all good though (Hate that I love you)
It's always light at the end of every tunnel…right? (Hate that I love you)
New DJ Rip Top40 Promo mix!!! Download and enjoy!
Playlist:
1. Martin Solveig – Hello
2. Alexandra Stan – Mr. Saxobeat
3. Dev – In The Dark
4. Maroon 5 ft Christina Aguilera – Moves Like Jagger
5. Taio Cruz feat. Flo Rida – Hangover
6. LMFAO – Sexy And I Know It
7. Foster The People – Pumped Up Kicks (Skeet Skeet Remix)
8. Avicii – Levels
9. Flo Rida – Good Feeling
10. Afrojack feat Eva Simons – Take Over Control
11. Rihanna ft Calvin Harris – We Found Love
12. David Guetta ft Usher – Without You
13. Adele – Someone Like You (Pacheco Remix)
14. Cobra Starship ft Sabi – You Make Me Feel
15. Pitbull feat NeYo – Give Me Everything
Come out and celebrate my Birthday Bash on Saturday December 10, 2011 at Whiskey Jacks Saloon in Madison, WI! I will be performing my 2 singles "Kissin In The DarK" and "Watchin Me" with Brian Urso as well as having 3 DJ's on stage…my good friends DJ Whitehorse, DJ Double A & DJ Snake! There will also be a band in the house…my friends 'Mission 19' performing all your favorite bar songs/sing alongs in between the DJ's! This will be ONE EPIC NIGHT! Make sure you come out! I know it's about 2 hours away from my hometown in IL, but the past couple of years I have been receiving an unprecedented amount of love and support from my WI peeps!!! So I hope to see everyone out!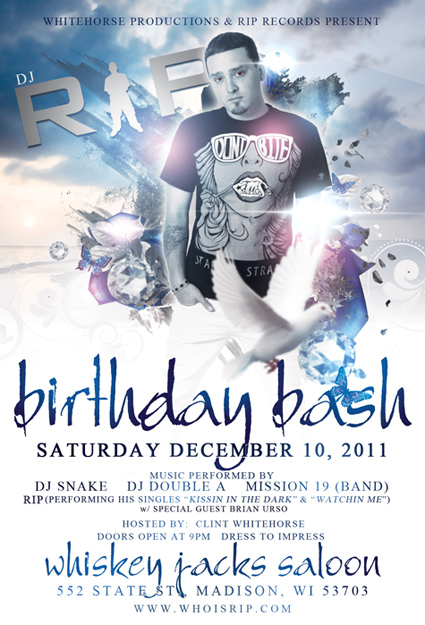 RIP RELEASES NEW SINGLE, MUSIC VIDEO "HATE THAT I LOVE YOU"
Filmed at Multiple Locations, the Video Features the Work of Emmy Award-Winning Creators
 
[Nov. 8, 2011] – Recording Artist Rip today released a new single and music video from his upcoming sophomore album, "Sellout."
 
"Hate That I Love You" is produced by Rip with co-production from RIAA-certified Gold-selling Producer DJ Pain 1 and features the late actor/artist/musician Justin Mentell (Disney's G-Force, Boston Legal) on the drums.
 
Filmed in part at the renowned haunted attraction Fear City Chicago, the video includes set construction by Emmy Award-winning set designer and decorator Jim Lichon (art director of The Oprah Winfrey Show) and Charles Grendys of Big City Sets Inc.
 
"Sellout" is set for a Spring 2012 release with a lead radio single coming soon. Rip's debut album, "Fashionably Late," is available now on iTunes from Island Def Jam Records.
###
[yframe url='http://www.youtube.com/watch?v=fLEV1l34En0′]